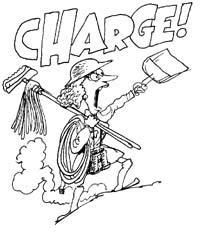 I thought long weekends were supposed to be filled with

fun and excitement

?! Saturday was still a little gloomy that morning so we stayed inside and ended up cleaning most of the day :( My house was happy I'm sure. We did the good deep clean. ie: vacuum in the couch cushions and under the couches, lots of dusting, moving the table and chairs out of the kitchen to mop, and other organizing. I do owe a big

thank you

to Eric. He did more than his fair share. At one point Emry asked me who was coming over? ... Can you

believe

the

nerve

of her! Was she trying to imply that this is abnormal cleaning activity? Or that we only clean this good when we are having

guests

?!

PUUULEEEEASE

!... Ok she knows me too well. (if there are those of you snickering because you do this frequently and on a regular basis then keep your comments to your self and try not to judge me

too

harshly) Sunday of course was church. And I must confess something ... we were in such a hurry to be on time to church (for anyone who knows me, knows how important it is for me that we be

early for church

... ok I'm afraid of being struck by lightning right now, so just kidding) But really we were on track this time to be on time and the only thing holding us up was Emry's left white church shoe! (black would just not have gone with her spring outfit) So in a moment of weakness I grabbed Emry a pair of

flip flops

! (see previous post on flip flops at church) Ok but in my defense they were new and still looked nice. You should have seen the

look

on her face! I told her don't ask questions just put them on. And just so you know we were totally on time and were sitting in the nice cushioned pews. That night my sisters came over (except Karis, who is in St. George) and we watched Cloverfield. ... I know I know not exactly church material but none the less we all have our

free agency

. Right?! And seriously, we hardly

ever

do it. ( I feel like I'm confessing too much at once in this post). So Monday continued right along with the uneventful lack of excitement. Eric did yard work and the kids and I just hung out in the morning. Later I ended the day with a little

shopping

. (I needed something to lift my spirits and what better than shopping. ) I have nothing to confess for Monday, I didn't steal any thing while shopping, I didn't have any traffic violations, I wasn't the least bit rude to the people who rang up my purchases even though the lines were ridiculously long! I do have to say, even though our weekend was not exhilarating or spectacular it was nice to be together and have Eric home an extra day.